2019 Lexus RX350L vs. BMW X5
The 2019 Lexus RX350L and the 2019 BMW X5 are both top luxury crossover SUVs. While the BMW focuses more on performance, the Lexus is more oriented towards comfort and luxury.
Luxury & Convenience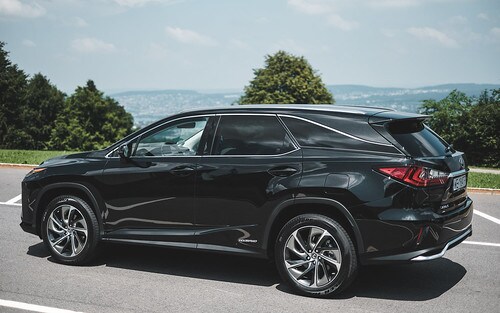 Image via Flickr by Janitors
Ride comfort: The 2019 BMW X5 features an air suspension which does a good job in eliminating most discomfort caused by road bumps. While Sport mode improves performance, it also stiffens the suspensions and decreases ride quality. The Lexus RX350L manages to keep the ride comfort even when the F Sport mode is activated.
Seat Comfort: Not only are the Lexus RX350L's leather seats supremely elegant, but they also deliver great comfort levels even on long drives. They also have heating and cooling features, as well as many adjustment options. The BMW's seats are also comfortable and supportive, with enough personalization to accommodate many different body types.
Outside noise insulation: The 2019 BMW X5's cabin is well insulated against wind noise, but it doesn't do such a great job in eliminating road noise. The Lexus RX350L, on the other hand, manages to keep virtually all noises to a minimum, just enough to keep the driver aware of what's happening outside the cabin.
Interior comfort: The BMW X5 has a very spacious and comfortable cabin, excellent for both short and long drives. However, the wide door sills make it relatively tricky to get in and out, especially for taller drivers and passengers. The Lexus RX350L stays true to its commitment to luxury by providing great interior comfort and accessibility.
Pricing
The 2019 Lexus RX350L is available at a standard Manufacturer Suggested Retail Price (MSRP) which ranges from $48,020 to $54,435. The 2019 BMW X5 is considerably more expensive, with the MSRP ranging from $60,700 to $75,750.
Safety & Security
Active safety systems: Cars like the 2019 Lexus RX350L and the 2019 BMW X5 come with all the active safety systems that you would expect from a high-end luxury SUV. The BMW's most useful active safety technology is the active blind-spot detection system, which alerts the driver of any vehicles and objects in the vehicle's blind spot, and its automatic emergency braking that avoids imminent frontal collisions. The Lexus' Safety System+ is an integrated bundle that features adaptive cruise control, forward collision mitigation with automatic braking, and a lane departure warning system with automatic lane-keeping assist.
Passive safety: Should an unfortunate collision occur, both the 2019 Lexus RX350L and the 2019 BMW X5 have sturdy frames and smart airbag systems that manage to absorb much of the impact. The Insurance Institute for Highway Safety (IIHS) has awarded both vehicles maximum (Good) ratings for both front crashes and side crashes.
The 2019 Lexus RX350L and the 2019 BMW X5 are both excellent luxury SUVs, but they are designed with slightly different purposes in mind. While the BMW appeals to drivers looking for speed and performance, the Lexus and its three rows of seats offers high levels of space and comfort, making it the ideal vehicle for long trips along with family and friends. If you're interested in getting a Lexus RXL, don't hesitate to  schedule a test drive.