2019 Lexus LS 500 vs. 2019 BMW 7 Series
Cars like the 2019 Lexus LS 500 and the BMW 7 Series reinforce what it means to be a luxury car owner. Both vehicles offer the power and performance that you would expect from a luxury car with the comfort and convenience features you want so that everyone can enjoy the ride. Not sure which vehicle better suits your needs? Let's' see how the two vehicles stack up.
Performance
Both the Lexus LS 500 and BMW 7 Series are rear-wheel drive and feature powerful engines to help you keep up with traffic and navigate long distances during road trips.
The BMW comes standard with an inter-cooled turbo premium I-6, 3.0-liter engine that outputs 183 horsepower. This gives the vehicle the pep and smooth ride you're looking for though not as sporty of a feel as the Lexus LS 500.

The 2019 Lexus LS 500 comes equipped with a twin-turbo, 3.5-liter, V-6 engine that outputs a more impressive 210 horsepower. This extra power, combined with extremely responsive brake pedals and a 10-speed automatic transmission allows it to accelerate much more rapidly and easily navigate roadways.
Safety & Security
As is typical with brands like Lexus and BMW, you know that safety is always a top priority. Both the LS 500 and the 7 Series come with a comprehensive standard airbag system that includes:
Driver.

Passenger.

Front and rear head.

Front side airbags.
You can opt for rear side airbags on the Lexus model to ensure that all passengers are properly protected.
They also both offer a number of standard safety and drivers assistance features to protect you in the event of an accident and prevent one from occurring. Some of the features both models share include:
Brake assist.

Daytime running lights.

Electronic stability control.

Child safety locks.
Driver assistance features both vehicles share as standard options include:
Blind spot monitor.

Auto-leveling headlights.

Cross-traffic alert.

Lane departure warning.
Other driver assistance features come standard on the Lexus, such as lane keeping assist.
Luxury & Convenience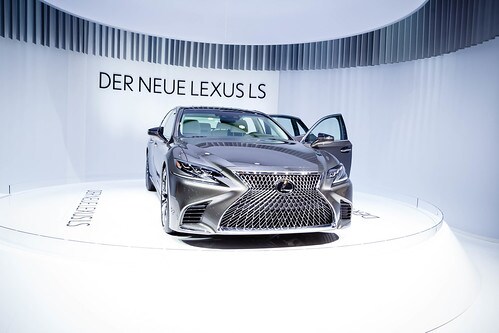 Image via Flickr by wuestenigel
One of the most important things that buyers are looking for when they purchase a luxury car is the comfort and convenience that it provides for both them and their passengers. Both the BMW and Lexus deliver in this category, with a number of elegant touches that truly provide a more upscale feel. Both models come equipped with:
Remote start.

Hands-free trunk opening.

Steering wheel controls to allow you to keep your hands on the wheel.
The Lexus also includes other standard features that the BMW requires an additional upgrade for, such as heated rear seats. Both vehicles also offer the option of heated rear seats, but only on the Lexus does the cooled driver seat come as a standard option.
Both the 2019 Lexus LS 500 and the 2019 BMW 7 Series answer the call of luxury vehicle buyers, by providing the comfort, handling, and performance they expect. But the increased sportiness of the Lexus, along with more standard features, helps to make it a slightly better bang for your buck over the BMW. Experience the performance power of the Lexus LS 500 for yourself by visiting  Hennessy Lexus of Atlanta.