2019 Lexus IS vs. Audi A4
Brands like Lexus and Audi have always been synonymous with safety, comfort, performance, and overall luxury, making them two of the top picks of luxury buyers the world over. So when they release cars like the 2019 Lexus IS and the 2019 Audi A4, luxury buyers sit up and take notice. Take a look at how the IS and A4 compare, and find out which car tips the scales when it comes to luxury, power, and performance.
Performance
The 2019 Audi 4 engine outputs an impressive 248 horsepower and 273 lb-ft of torque. It is paired with a seven-speed S tronic dual-clutch automatic transmission and all-wheel drive to allow it to handle corners and smoothly shift over almost any type of roadway. Like the Lexus, the Audi 4 has a variety of drive modes to select from that allow you to truly customize your driving experience.
The 2019 Lexus IS boasts an equally impressive engine paired with a eight-speed sport shift direct transmission with paddle shifters that give it a more sports-like shifting and feel. The Lexus also comes with all-wheel drive and adds on some performance driving modes to take it up a notch when you open it up on the highway. You can even gain a more sports-like driving experience when you opt for the available F Sport trim level.
Luxury & Convenience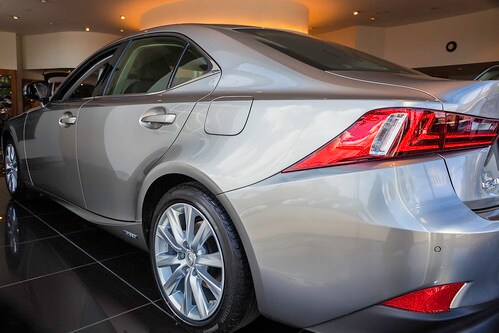 Image via Flickr by aldenchadwick
Both the Lexus and the Audi offer the comfort and convenience that you would expect to find with luxury brands, such as a variety of elegant touches throughout the cabin. Lexus put a little more focus into the interior design of the IS with a memory system that allows multiple drivers to set the seats to their specific comfort settings. Lexus also offers a lot more standard comfort features such as heated and ventilated front seats and a leather-wrapped, heated steering wheel.
The Audi A4 does a good job with its interior technology to create added convenience for both drivers and passengers. The Audi MMI infotainment system has a highly responsive touch screen with a customizable interface that allows you to control your seating, climate, music, and phone all from one convenient location. 
Lexus also means to impress buyers with their interior convenience with an available 15-speaker surround sound system, destinations assistance, and connectivity to Amazon Alexa and Google Assistant. Drivers will also enjoy the HomeLink system, which enables control of essential home systems, such as exterior lighting, garage doors, and security systems.
Safety & Security
Safety and security are top priorities in both the IS and A4. The Lexus utilizes exterior approach lighting as well as interior LED lighting to help you find your way at night. Both the Audi and the Lexus offer a variety of driver assistance features such as adaptive cruise control, blind-spot monitoring, pedestrian detection, lane-keeping assist, and parking assist. The IS offers more of these features standard, including lane departure warning and rear cross-traffic detection.
More standard safety features, an interior that defines comfort, luxury, and convenience, and additional options for a more sporty ride, give the new 2019 Lexus IS the edge over the 2019 Audi A4. If you're interested in getting a Lexus IS, don't hesitate to schedule a test drive.