2019 Lexus IS                                                         vs.                         2019 Mercedes-Benz C300
Cars like the 2019 Lexus IS and the 2019 Mercedes-Benz C300 have always delivered vehicles with handling, performance, power, and luxury. Both vehicles offer what luxury buyers are looking for. Learn more about these two models by reading the following comparison. 
Performance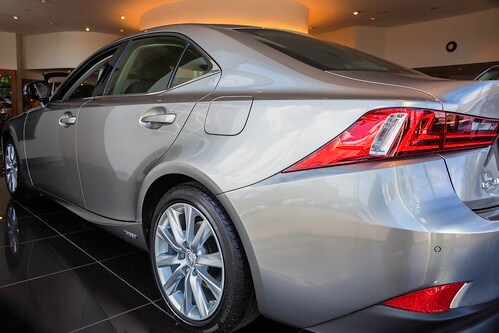 Image via Flickr by aldenchadwick
Both the 2019 Mercedes-Benz C300 and the 2019 Lexus IS offer powerful engines that provide both vehicles with a sportier feel. The Mercedes-Benz comes with the following: 
A 2.0-liter turbocharged engine delivers 255 horsepower. 

The nine-speed automatic transmission creates an athletic feeling when taking off or cruising along at higher speeds. 
The Lexus IS offers the following performance features:
A turbocharged 2.0-liter, four-cylinder engine produces up to 241 horsepower.

Smooth handling and shifting provides enough power to dominate the road. 

Normal, comfort, and sport modes offer the ability to easily adjust your ride.
Luxury & Convenience
Brands like Lexus and Mercedes have always kept up with luxury, and the Lexus IS and Mercedes-Benz C300 are no exception. Both vehicles provide the following:
Simple and elegant touches of elegance throughout the cabin, such as plush and comfortable power-adjustable front seating in leather or cloth. Drivers can enjoy ample comfort and back support no matter how far they travel. 

Ample head and legroom and plenty of cargo space are available.
The Lexus IS offers more adjustments and comfort options available to rear passengers than the Mercedes-Benz C300. The infotainment system in this vehicle includes Bluetooth, a USB port, and a 7-inch display screen which can connect drivers to both phone calls and music with the touch of a button. The Lexus IS also delivers more standard interior features such as a moonroof, dual-climate control, and HD radio. 
Safety & Security
Safety has always been a concern to both the Lexus and Mercedes manufacturers. You'll witness this focus on safety featured in both the Lexus IS and Mercedes-Benz C300 with a number of standard and available safety features. Both vehicles include standard safety features to help prevent accidents, such as daytime running lights and LED headlights and taillights. 
When it comes to driver assistance technology features, both manufacturers provide the latest features as either standard or optional features on the Lexus IS or Mercedes-Benz C300 models. Some features include the following: 
Blind-spot monitoring.

Adaptive high beams.

Active steering assist.

Lane-keeping assist.

Emergency stop assist.

Rear cross-traffic alert.

Rear parking assist.
While both vehicles have a well-performing airbag system, the Mercedes-Benz system only includes eight airbags, while the Lexus IS features 10. The Lexus IS has a slight edge on safety features over the Mercedes-Benz C300 since it provides many more of these driver assistance features as standard options on many of the Lexus IS trim levels.
Warranty
While both manufacturers will offer a bumper-to-bumper warranty for four years or 50,000 miles, some differences exist:
Lexus offers a powertrain warranty that extends past the period mentioned above, unlike Mercedes-Benz. 

The powertrain warranty from Lexus is for six years or 70,000 miles. 
With slightly better interior comfort, more interior and safety options, and a longer powertrain warranty, the 2019 Lexus IS outpaces its competition in the 2019 Mercedes-Benz C300. Experience the Lexus IS for yourself by visiting Hennessy Lexus of Atlanta.