2019 Lexus GX vs. 2019 GMC Denali
If you're in the market for a luxury crossover, you'll likely find yourself contemplating between the 2019 Lexus GX and a 2019 GMC Denali. The Lexus GX is a midsize SUV, while the Denali nameplate is used on the top trim levels of a number of SUVs in the GMC lineup, including the midsize Terrain, the full-size Acadia, and the full-size Yukon. Check out this comparison between the 2019 Lexus GX and the 2019 GMC Denali models.
Performance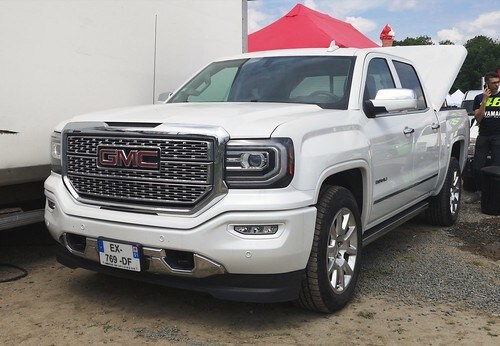 Image via Flickr by crash71100
Whether you decide to get the 2019 Lexus GX or a 2019 GMC Denali model, you'll have a powerful SUV with good road manners. However, in terms of performance, the Lexus might have a slight advantage in certain areas, including:
More potent base engine: Regardless of which model you choose, the Lexus GX comes with a 4.6-liter V-8 engine that produces 301 horsepower. This engine is significantly more powerful than that of the midsize Terrain, which is a 252-horsepower, 2.0-liter turbo-four.
Rear stabilizer bar: The GX features front and rear stabilizer bars that help it stay well-planted and composed around corners. None of the Denali models has a rear stabilizer bar.
Active sway bars: The Lexus is also fitted with active sway bars, which further enhance its cornering ability, refine its handling, and improve traction both on and off the pavement. This feature is unavailable in the Denali models.
Safety & Security
Brands such as Lexus and GMC are known to produce vehicles with high safety ratings. Besides solid body construction and basic safety features, the 2019 Lexus GX and 2019 GMC Denali offer a long list of driver assistance technologies to reduce your risk of accidents. Nevertheless, the GX has a number of additional safety features that give it the upper hand in this department, including:
Optional pre-crash front seatbelts: If you get this option, the front seatbelts in the Lexus GX will tighten automatically to provide better protection against injuries in the event of an accident. The Denali models don't offer this feature.
Optional driver alert monitor: Unlike the GMC Denali models, the Lexus has an available driver alert monitor that can detect driver inattentiveness, deliver an audible warning, and suggest a break.
Warranty
Both the 2019 Lexus GX and 2019 Denali models come with extensive warranty coverage. However, you might be able to save substantially on repairs if you opt for the Lexus, because of the following reasons:
More generous basic warranty: The Lexus GX offers a basic warranty that covers the whole SUV for four years and 50,000 miles. The Denali models' basic warranty is only valid for three years and 36,000 miles.
Longer powertrain warranty: The GX comes with a powertrain warranty that lasts six years or 70,000 miles, which is one year or 10,000 miles longer than that of the Denali models.
Besides the above-mentioned advantages, the 2019 Lexus GX also has a higher reliability rating than the 2019 GMC Denali models. If you're interested in getting a Lexus GX, don't hesitate to schedule a test drive.