2018 LEXUS IS 300 VS. BENZ CLA
Two of the top names in the luxury vehicle lineup, Lexus and Mercedes Benz, have introduced two heavy-hitting vehicles that are vying for their piece of the market: the  2018 LEXUS IS 300  and the 2018 Mercedes Benz CLA. Both bring the safety, power, performance, and luxury features you would expect from brands like Lexus and Benz. But which vehicle has the edge?
Safety & Security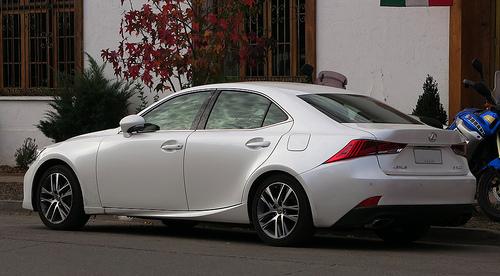 Image via Flickr by RL GNZLZ
The IS 300 is equipped with pre-crash pretensioners on its seat belts to tighten the belt automatically when it detects an impending crash, helping keep both driver and passengers safer. This feature is not available on the 
BENZ CLA
.  Both vehicles offer a host of standard safety features, such as driver and passenger front air bags, front side-impact air bags, front knee air bags, and side-impact head air bags. 
They also feature traction control, an electronic stability system to help keep your vehicle on the road, daytime running lights, and available all-wheel drive. While both vehicles offer optional driver assistance technology such as blind spot monitoring, the IS goes a step further by providing an optional cross-path warning system that uses a wide-angle radar to alert drivers when something is approaching from the side. 
Warranty
The Lexus has a slight edge with its warranty,  offering a six-year or 70,000-mile warranty, which is two years and 20,000 miles more than the CLA's four years or 50,000 miles. The IS also gives drivers an extra year on their corrosion warranty.
Performance
Both vehicles offer a 2.0-liter, turbocharged, four-cylinder engine, though the Lexus engine is slightly more powerful, producing 241 horsepower versus the CLA's 208 horsepower. Upgraded engine options are more powerful, as well, with a 3.5-liter, double overhead cam V-6 producing 311 horsepower. The CLA's upgraded engine still produces 208 horsepower. 
An eight-speed transmission gives the Lexus IS better acceleration on the highway than the Benz's seven-speed option. The wheelbase on the IS is 3.9 inches longer than the CLA, which provides it with stabler handling. The tires on the IS also boast a lower profile and stiffer sidewall to assist with vehicle handling. The IS comes with a space-saving spare that stays out of the way but is available when you need it. 
Luxury & Convenience
Adaptive headlights are available on the IS to provide better illumination around corners. It also has light sensors when the high beams are on that detects other vehicles and switches to lower beams without driver assistance. Neither of these features are available on the CLA. Both vehicles offer comfortable seating with optional leather-crafted seats, but the IS provides additional options such as a power rear sunshade to help reduce heat and glare. Other features you will find only on the Lexus include air-conditioned seats and an optional heated steering wheel. 
While both deliver the luxury you would expect from cars like Lexus and Mercedes Benz, the IS 300 provides buyers with an edge over the CLA. To check out the 2018 Lexus IS 300 for yourself, take one for a 
TEST DRIVE
  today at Hennessy Lexus of Atlanta.