2018 LEXUS GX460 VS. BMW X7
Luxury car buyers are on the lookout each year for the new releases from Lexus and BMW. Two vehicles in these manufacturers' lineups are more than answering the call for what drivers are looking for. Cars like the 2018 Lexus GX460 and BMW X7 don't come around often, so how are drivers to choose between them? Let's check out the specs and see how they fare against each other. 
Safety & Security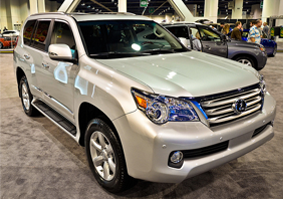 Image via Flickr by TDelCoro
While both vehicles bring you the safety and security you would expect from  BRANDS LIKE LEXUS  and BMW, the 
LEXUS GX460
  definitely tips the scale with improved safety features. Both the front and middle seats of the Lexus are equipped with pretensioners that help reduce dangerous slack if an accident occurs.
Both vehicles include driver and passenger front and side-impact air bags, driver and front passenger knee bags, side-impact head airbags, and four-wheel anti-lock brakes. Both provide drivers with additional safety features for better handling on a variety of road conditions, such as daytime running lights, electronic stability systems to prevent skidding, traction control systems, and available crash mitigating brakes. 
You can also enjoy upgraded driver's assistance features on both vehicles' upper trim levels, including a lane departure warning system, blind spot detection, driver alerts, around view mirrors, and driver alert monitors. Only the GX460 offers an optional cross-path warning system. 
Warranty
When it comes to the warranty, the GX460 boasts two years and 20,000 miles more on the powertrain than the BMW's four-year, 50,000-mile warranty. Both warranties cover repairs needed to the transmission, axles, joints, and driveshafts. Lexus also offers an optional longer extended warranty. Both companies include a basic warranty on all their new vehicles that lasts for four years or 50,000, though Lexus also includes wheel alignment and balance for 12 months or 12,000 miles. 
Performance
Both vehicles can come with a V-8 turbo engine that produces an impressive amount of horsepower, though the GX460 comes with a standard 4.6-liter, dual overhead cam, V-8 engine. The 4.4-liter, Twin Turbo 
V-8 ENGINE
  on the BMW is only available at higher trim levels. The tires on the GX460 are slightly larger than those on the BMW, which provides for better traction. The Lexus' tires also come with an additional lug nut that helps improve the life of the wheel bearing. 
The GX460 has better handling and control when it comes to cornering. It also has better off-road suspension articulation thanks to its active sway bars. This system helps keep your tires firmly on the road but is not offered on the X7. You also will enjoy standard all-wheel drive on the Lexus GX460. This option is available on the BMW X7, though it comes at an added cost. 
While both vehicles deliver the performance and safety you would expect from brands like Lexus and BMW, it is easy to see that the 2018 Lexus GX460 leads in these categories. Find out for yourself why buyers love the new 2018 Lexus GX460 by taking one for a 
TEST DRIVE TODAY
at Hennessy Lexus of Atlanta.