2018 LEXUS ES 350 VS. 2018 VOLVO S90
When you're in the market for a new vehicle and you'd like to get something with smooth lines and impressive performance, consider a luxury sedan. If you've narrowed down your options to the 2018 Lexus ES 350 or the 2018 Volvo S90, this helpful guide will look at the similarities and differences between the two to help you decide which one will meet your needs.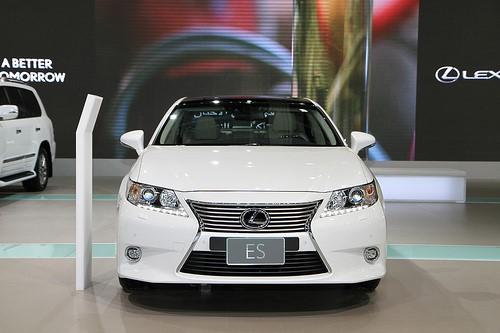 PERFORMANCE
One important aspect to consider when you're comparing the Lexus ES 350 and Volvo S90 is the power and performance both vehicles offer. If you opt for the Lexus ES 350, you'll enjoy a
3.5-LITER V-6 ENGINE
that works with a six-speed automatic transmission to produce 268 horsepower and 248 pound-feet of torque. The ES 350 can also go from zero to 60 mph in 7.1 seconds. On the other hand, the Volvo S90 comes standard with a 2.0-liter turbocharged engine that generates 250 horsepower.
LUXURY & CONVENIENCE
Choosing a vehicle with the right luxuries and conveniences can help you have a smooth and enjoyable drive. While both the
LEXUS ES 350
and Volvo S90 come standard with dual-zone automatic climate control, a leather-trimmed steering wheel, and a built-in universal garage door opener, the Lexus ES 350 offers a few extra interior features. For example, with the standard 10-way power-adjustable driver and front passenger seat, you and your passenger can find that perfect position for a comfortable drive.
SAFETY & SECURITY
If you're concerned about safety when you're on the road, you'll be pleased to know both the Lexus ES 350 and Volvo S90 come with
ADVANCED DRIVER ASSISTANCE SAFETY FEATURES
, such as a rearview camera, adaptive cruise control, and a forward collision warning system.
PRICING
Although you want to make sure you're getting the features you want in your luxury sedan, you also don't want to overpay for what you need. That's why it's important to compare the price difference between the 2018 Lexus ES 350 and the 2018 Volvo S90. The ES 350 has a starting price of $38,950, while the S90 comes with a starting MSRP of $48,100.
WARRANTY
To help make sure you can enjoy your new vehicle for plenty of miles, the Lexus ES 350 and Volvo S90 offer several warranties. Both vehicles offer a four-year/50,000-mile basic warranty and anti-corrosion warranty with unlimited miles. However, while the S90 offers a four-year/50,000-mile warranty on the powertrain, the ES 350 tops this by offering a six-year/70,000-mile powertrain warranty.
MEASUREMENTS
With 37 inches of headroom in the front and rear, 40 inches of legroom in the rear, 57 inches of shoulder room in the front, and 55 inches of shoulder room in the rear, the Lexus ES 350 and Volvo S90 offer comparable space inside for you and passengers. However, if you also tend to carry extra cargo, it's important to note that the ES 350 has 15.2 cubic feet of cargo space while the S90 only offers 13.5 cubic feet.